Steps for WeChat Log in From Phone and PC :
In the year 2011, the WeChat app was released. It is a Chinese App for messaging, and mobile payments. It is basically used for as a social media platform to contact people.
Features of WeChat:
You can use this app for mobile payments, chatting with friends, sharing important pictures, documents, etc.

This app can be used in windows, Androids, Mac OS, Symbian V3, and Symbian v5.

WeChat is available in 20 languages.

You can call and video call from this app for totally free of cost.

WeChat also provides many emojis, stickers, and Gif s to make fun experience while chatting with your close people.
How to Download and Register to WeChat:
For mobile phone:
You need to turn on your mobile internet first.

Then you have to go to your Google Play Store or App Store.

And search for WeChat.

After that, you need to click the "install" tab. To download the application.

Then you have to click the WeChat icon that you have downloaded on your phone.

You can choose your preferred language from the top right corner of the page first.

Then you need to click the "sign up" tab.
Then you will get two options that "sign up via your phone", and "sign up via your Facebook".
If you want to sign up in WeChat with your Facebook ID and password you can click the second option of "sign up via Facebook"
Otherwise, you need to click the "sign up via phone" tab.

Then you have to provide your preferred username for this account.

You can fix your profile picture after that.

Then you have to choose your country.

Then provide your mobile number.

And at last, you need to make a password for this particular account.

Then click on the tab called "agree with all terms and services".
Click the "sign up" at the end.
then you have to read all the rules and the restrictions of this application very carefully and then agree with this all rules by tapping on the button called "I have read and accept all the above terms".

Then you have to allow the app to have access to your phone contacts and gallery.

On the next page, you need to tap the "start" tab to start your security verification.

Then the application will verify if you are a machine or not in their own ways.

Complete the task as directed and go to the next page.

Then you have to ask for WeChat user scan your QR code if you facing any problem to scan your QR code place on the tab called "unable to scan QR code".
Then you need to ask your friend who is an already WeChat user to find the "help a friend to register" tab and put your mobile phone number there it will help you to register your name in this WeChat account.

After taking the help of your friend you can verify your phone number with the verification code.

And now finally register yourself as a WeChat user.
For computers:
Open your laptop or desktop and connected with a suitable internet connection.

After that, you need to search for "WeChat download for PC".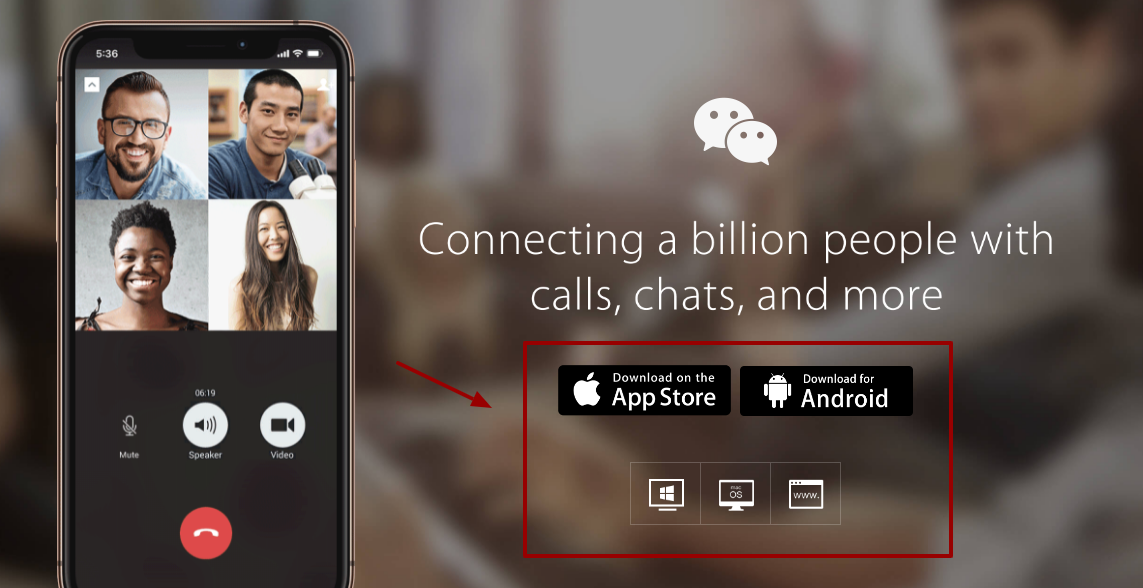 Click on the first tab "WeChat-download".
When you will find the option "free download" in green.

Click on that.

After downloading WeChat.

You need to click the "install WeChat" tab.
Click the "run" button after that.

The web WeChat will provide the QR code and you need to scan that code from your phone WeChat scanner.

After that, you need to confirm your login and id from your phone.

Then your WeChat web will be automatically activated.
How To Recover An Old WeChat Account:
If you have deleted your previous WeChat account and trying to recover that particular WeChat account again you need to download the app in the same way you have downloaded before.

After that, you need to click "I have already an account" tab.

Then you need to provide your previous account ID

And password to "log in" into your previous account.
Also Read : Join Total Rewards Air Program Online
The Process of Recovering your Forgotten Password:
After downloading the app from your App Store for Google Play Store in your mobile and

When you are logging in with your previous account you can see the button called "forgot password".
Then you will get three options to recover your password like "mobile repairing SMS code", "QQ ID link and password", and " via Linked email address".
Select one of those options and choose the "forgot password" option again.
Click the "next" tab now to retrieve your forgotten password.
If you can't use any of the above options click the tab "request forward retrieval".
Then you need to "accept terms of services".
Click the "request retrieval" tab.

Now you will receive an account list.

If you don't find your ones click "above account are not mine, enter again" tab.
On the next page you will receive two options called "I forgot my WeChat ID", and "I know my WeChat ID".

Then you have to provide your WeChat ID

Your mobile number

And match the captcha.

Click the "next" tab.
The app will send an SMS on your phone number. You need to give permission by clicking the tab "send SMS now".

Now you will get some digits as SMS.

Then you have to make your number verified by a WeChat user friend.

After your number has been verified your account will be retrieved again.
Contact Details:
References: